Wow.  Did we have one of Bachelor's finest moments?  Did we waste more of our lives?  Where do we go from here?
I don't know, but I know tomorrow is all sunshine and college football.  I've survived my 6th season (I think?) and we're going out with a bang.  Unlike the fantasy suites which were more like "high school dance" suites.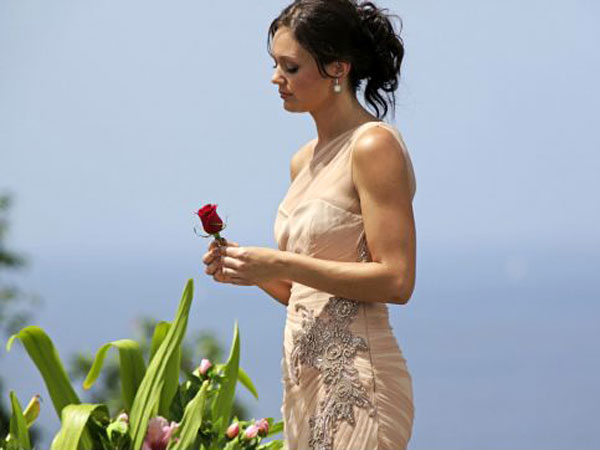 This episode was strange.  The live element is always confusing.  Harrison keeps us waiting and continues interviewing women from the Island of Misplaced Singles who ranged from clingers, to people-who-are-glad-Palmolive-moisturizes-hands-while-you-scrub-pots to just lonely ass people who would rather live in someone else's surreal life than their own existence.  What is the test they give you to be in the studio audience and where can I get a copy?
Sample questions:
1.  Have you ever cried in public because you thought you knew how a bird was feeling?
2.  Pink highlighter is perfect as a substitute for blush.  True or False?
3.  You consider Sean and Des your first breakup.
4.  Favorite Twilight novel?
5.  Have you had sex with your middle age husband in the last 4 years?
6.  Do your group of friends totally think you are the Zooey Deschanel of the group?
Or you could just be that weird ass dude in a blue satin shirt who snuck in possibly as the ass of a two person horse costume.  What the fuck.
On the island, Des looks like a Big Stick popsicle as she cries, alternating between red and yellow as she cannot get over the part of her uterus that makes her love chasing a man who at best doesn't like girls and at worst doesn't like her specifically.
She wants to go home.  She can't go on.  How can life ever be the same now that a man who never claimed to love you admitted he didn't love you?
Even scarier, somewhere on that island is your brother who is stalking jungle cats and planning to kill them with a switchblade.
Des still has dates to go on thanks to Chris Harrison giving her some MDMA and she makes a duck face in the mirror putting on her big stick makeup and then jumps on a horse, riding it like she is keeping carrots in her ass in case the horse gets hungry.  I've seen cowboys that lost their farm look happier on a horse than she did.
She gets to Valerie Kilmer who found a way to wear two pastels and also sported the best sweat stain of the season across his chest.  It was a total Harry Potter Voldemort lightning bolt sweat.  Or just a jagged wound from where Des ripped his heart out.
They rode horses with carrots up their asses down to a beach where Drew didn't last 15 minutes before getting gutted like a luau pig.  He was all "I don't know" so many times in a row that it was the total opposite of this classic song by Bill Withers.
He tries so hard to cry, but I feel like he was relieved because, like I said, this really good guy that I'd be proud to get a beer with doesn't seem to like girls.  He tried to cry so hard.  It was amazing.  He was like cancer, dead puppies, dead puppies dead from cancer, famine, James Gandolfini, being late to a rack sale…  NONE OF IT WORKED and after all of it he was rewarded with a ride in a pastel molester van.
HUNGER GAMES BITCH.
Des was getting dressed and crying and you couldn't help but notice her abs are in top form confirming the best diet is still being constantly dumped.
You notice right away with Middle School Dancer she's in a good mood.  Like, she might even eat today.  They go on a "private" catamaran with about thirty other people and then drink Planter's Punch or something cool and then swim and shit.  No helicopters, but she didn't seem to want to drink Drain-O so I kept wondering what was next, if Brooks would pop out of the kelp and be like "hey" or if Des would try to rub her face on some coral until it hurt more than her heart.
Truthfully, Chris did great.  He was quite a rock and just hung in there and Des was like you are a loyal friend, which killed boners nationwide.  Still, this episode was about Des possibly breaking the convention girls everywhere never can…  COULD SHE PICK A MAN WHO MIGHT ACTUALLY LOVE HER?
It's so weird because if a girl with a dickhead boyfriend were to ask her friends, they wouldn't want to be with that guy themselves (unless they secretly hate their friend, in which case watch the throne, bitches).  Your friends always like the cool dude who makes your friend stable, brings wine to parties and will listen to you when you get kicked in the junk by another dude you were chasing.
I was dying to see if Des was going to make a change that's so, well, un-Bachelorish.
Chris gets to meet the family and he dresses like he's going to Toast on 3rd with a hangover.  Oh well.
We get to see Des' brother again, dressed like he escaped a naval jail and he literally is the inspiration for Sean Penn in every film ever.  He looks like he is goating you to fight him all the time.  It was awful to watch Des unenthusiastically endorse Chris who she loves "today" or "in the moment" which totally sets the kill instincts off in her bro.
I honestly am terrified by him.  I wish he was the next bachelor.  It'd be like.  Everyone gets a knife. Whoever can cut themselves the longest gets to get a rose.  Here are your knives.
Regardless, we were getting close to the real deal happening.  Chris gets permission from Des' father who seemed genuinely just happy to be on an island and not camping or whatever Des used to say her family did to survive.  It's also hard to concentrate with his murderous son in the bushes holding a machete in his teeth claiming "I have to do this".  Whatever that means.  I don't wanna know.
Des clearly was specific with the cushioned cut diamond instructions because Neil Lane (or the plastic skin grafted plastic surgery frankentstein that runs Neil Lane's company as Neil Lane) shows up to get his annual ring loan out of the way.  Weeks later, he gets it back.  He brings some bombs.  Chris picks one.  Des probably already picked it.
We get to the morning montage and we're all wondering what's going to happen and I have to say I was legit surprised.  I mean, Chris goes up there and he's pretty chill albeit stop talking in poems dude, she'll eventually consider how to kill you in her sleep and fuck the first surfer she can find.
Then, right at proposal, she stops him and we have that HERE WE GO moment.  She basically is about to talk about Brooks some more but totally turns it around being the first girl on television (and one of eight girls internationally) to ever get over someone they only liked because there was nothing there to go for a guy who will love them probably forever.
It was the most touching ending of the show I can remember.  Des even seemed happy on the after show, handling Brooks, whining from Valerie Kilmer and all the rest.  The only time I think she cringed was when Chris gave her a bunch of roses he hand framed with ANOTHER POEM JESUS! and I realized he has a lot in common with all my high school girlfriends.  Who keeps roses past prom?
Des is off into the sunset and so am I.  It was a pleasing end…  UNTIL WE WENT DIRECTLY TO PLEASURETOWN…
Juan fucking Pablo is the new bachelor.  My job is so easy.  For 6 seasons I've been calling dates Juan on Juans.  He is a walking sex bomb who will using Camila (Cah mee lah) for an aphrodisiac and this man will take every helicopter, rappelling trip, etc he can.
I am totally ready for January, I think it may be my finest work.
To my readers who may leave me now, may I thank you for another fun season.  I love messing with you guys and it's a real treat in the football offseason.  This winter, I plan to write about some things beyond sports, so please don't shut me out completely.  You have to accept this rose.
I'll miss you, but you know where to find me.  I, for Juan, look forward to our next meeting.
CLICK HERE TO JOIN ME ON FACEBOOK
FOLLOW ME ON TWITTER BECAUSE I TWEET PROFESSIONALLY
I'M ON INSTAGRAM @LOSTANGELESBLOG - FOLLOW ME NOW